Regular price

$9.99

Sale price

$7.99

Unit price

per

Sale

Sold out

Ships by December 10th. Free Shipping over $10!
Pediatrician Approved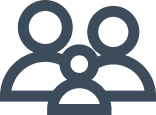 For Kids 4 to 12 Years Old

Stops Nosebleed Fast
OR
Nampons™ Kids are the only nosebleed product designed to stop nosebleeds fast in children ages 4 to 12.

Over 86% of all children under 12 will experience a nosebleed, mostly from letting kids be kids! Nose picking, playing, falling, colds, and allergies make children the biggest group of nosebleed sufferers! Nosebleeds are one of the top reasons parents bring their kids to the pediatrician!

While often scary, they are typically not serious, especially when handled quickly and properly. Nampons is the leading brand for treating nosebleeds in children ages four and older. Thousands of parents, pediatricians, and school nurses trust Nampons™ to be prepared - just in case! 

Features

Designed for children's noses
Expands to provide pressure from the inside
Absorbs 10x more blood than tissues

Hypoallergenic clotting agent stops the bleed
Pain-free removal.  Won't get stuck and restart the nosebleed
Odorless and tasteless
Be prepared. (Little) Nosebleeds need Nampons™.
Hypoallergenic Clotting Agent

Nampons are impregnated with micro-oxidized cellulose, a hypoallergenic clotting agent used since the 1950s for mild to moderate bleeds.
Ingredients

Sodium salt of oxidized cellulose(active), PVA sponge, polyethylene glycol and a surfactant.
Expiration

Nampons™ will remain sterile and effective for three years. The expiration date is clearly marked on every box and product.
For Kids 4 and Older

Nampons™ Kids are designed for children as young as four.
Dimensions

Nampons™ are designed to be small and discreet so you can keep at home, in the car and in the office to always be prepared.

Nampons™ Kids are shared to fit comfortably inside a child's nose while providing gentle pressure to slow and stop the bleed.

Each nosebleed treatment is 35mm x 5.5mm x 5.5mm, or 1.38" x .22"
How to Use

Insert gently into the affected nostril.
Apply gentle pressure until the bleed stops. The Nampon™ Kids will expand on contact and deliver the clotting agent to stop the bleed.
Remove carefully when the bleeding stops and repeat if necessary.

If the bleed lasts more than 15 minutes, please seek medical attention
FSA & HSA Eligible

Nampons™ may be purchased with your FSA or HSA health care account.
Guarantee

We understand that the idea of a solution created just for nosebleeds is new for consumers.  We know that after you try Nampons™, you'll never use a tissue for a nosebleed again!  However, if you are not 100% satisfied we'll give you your money back.  
Share
View full details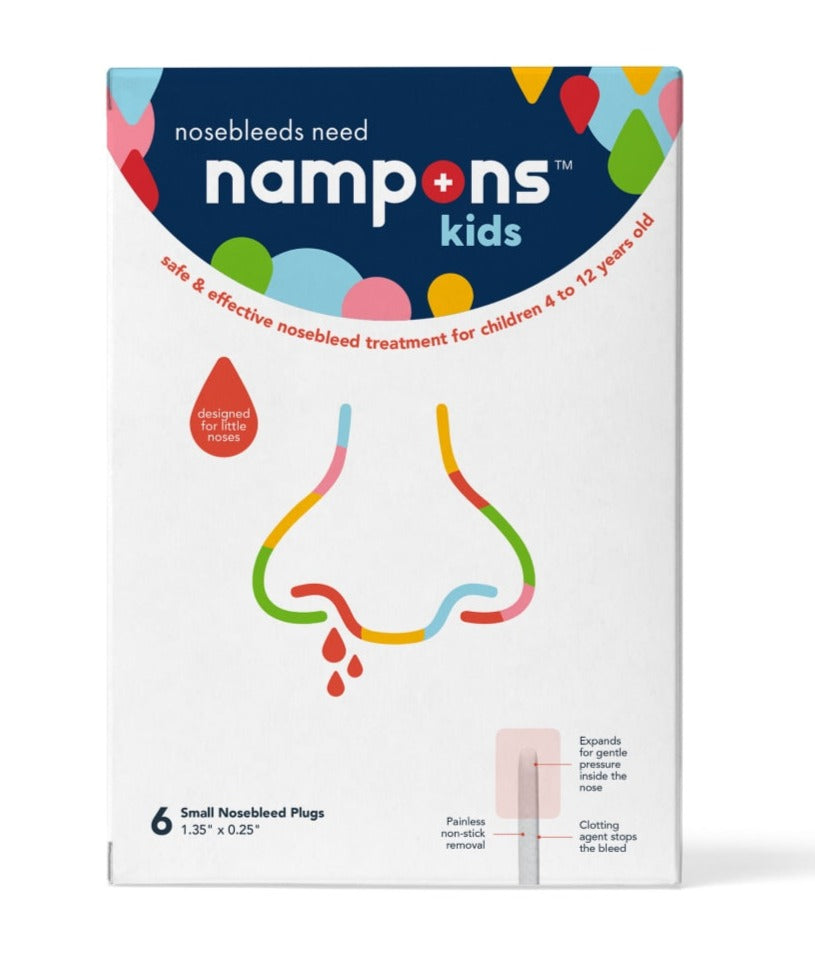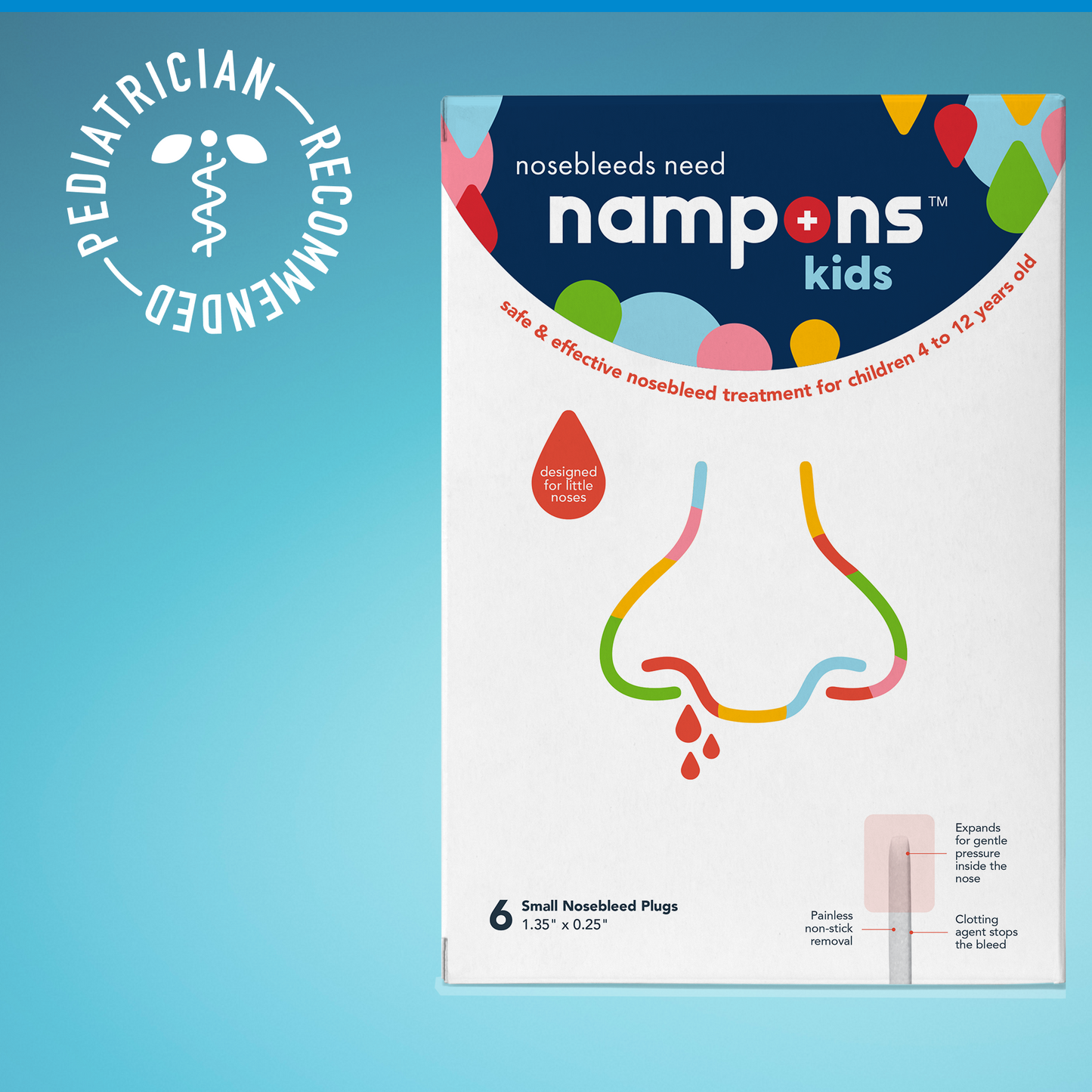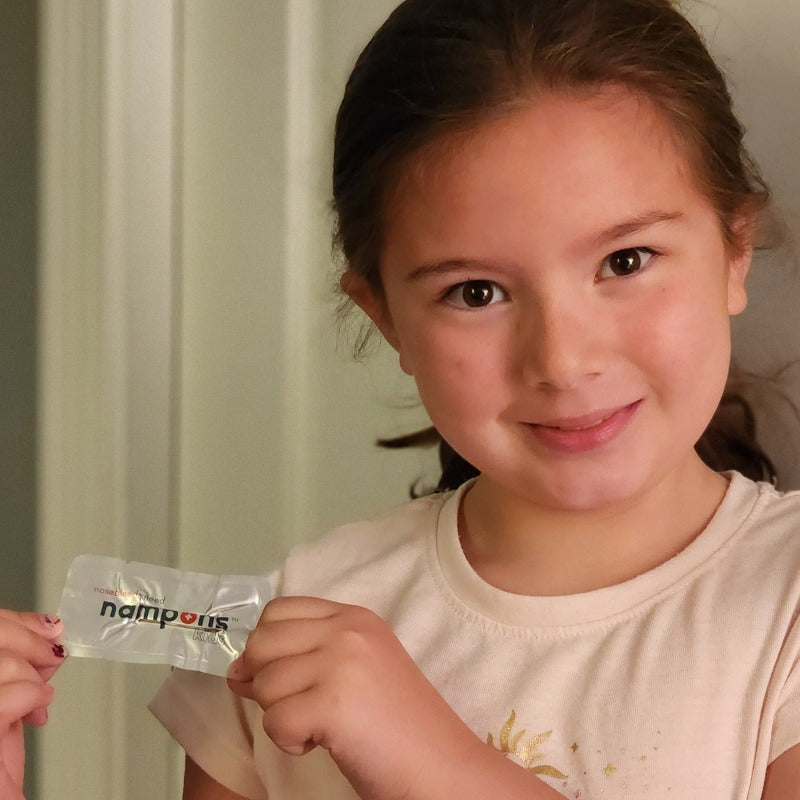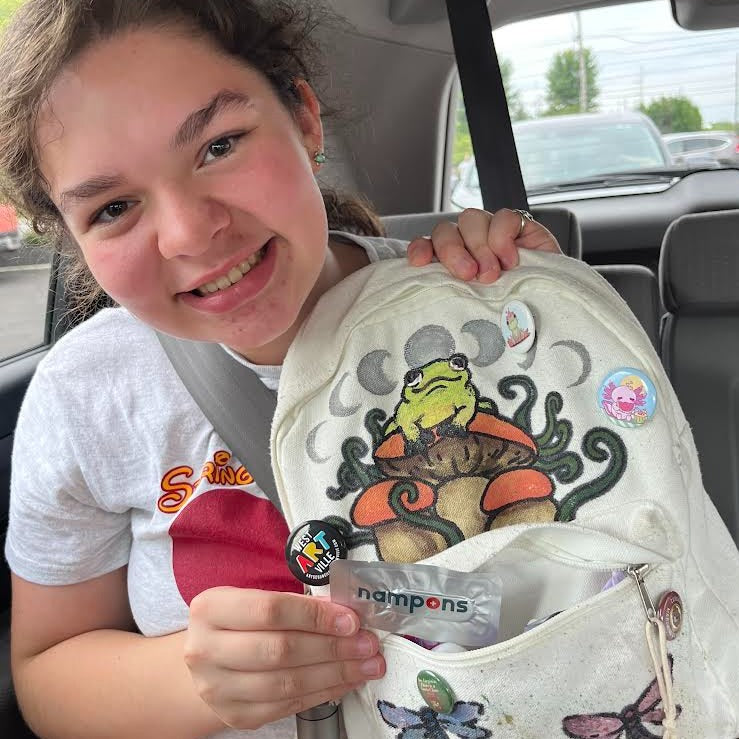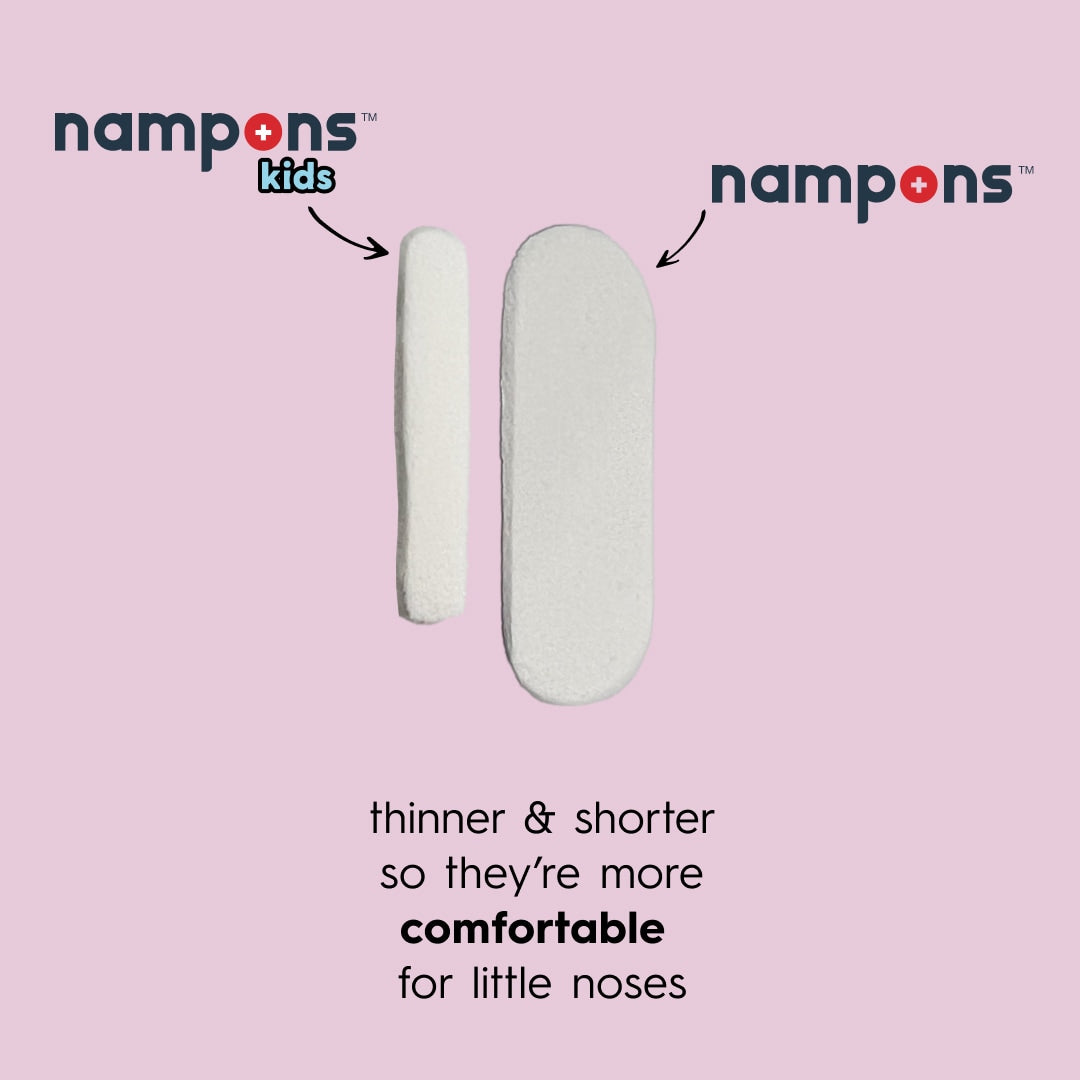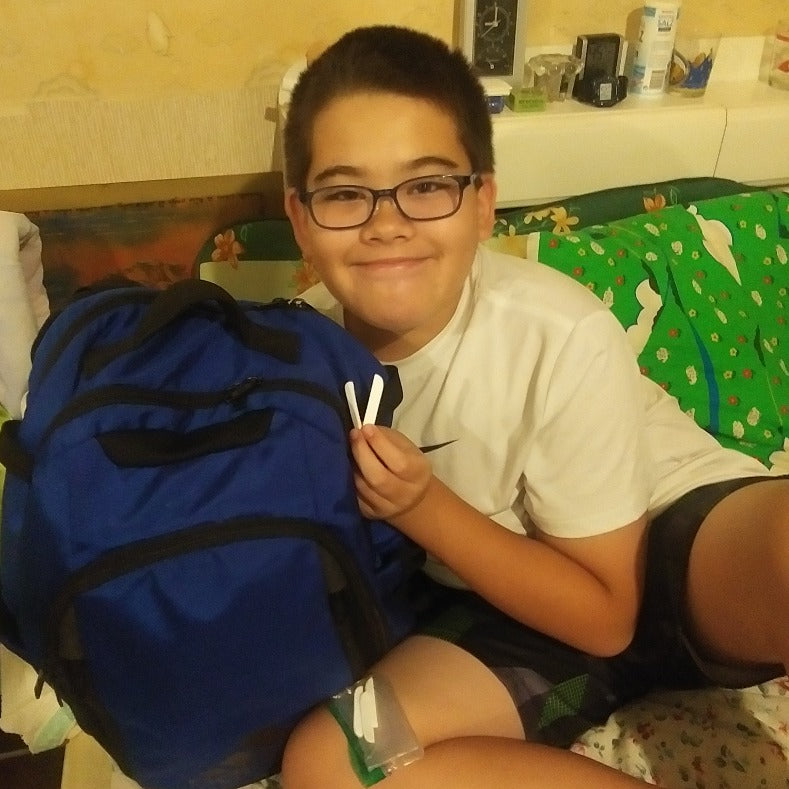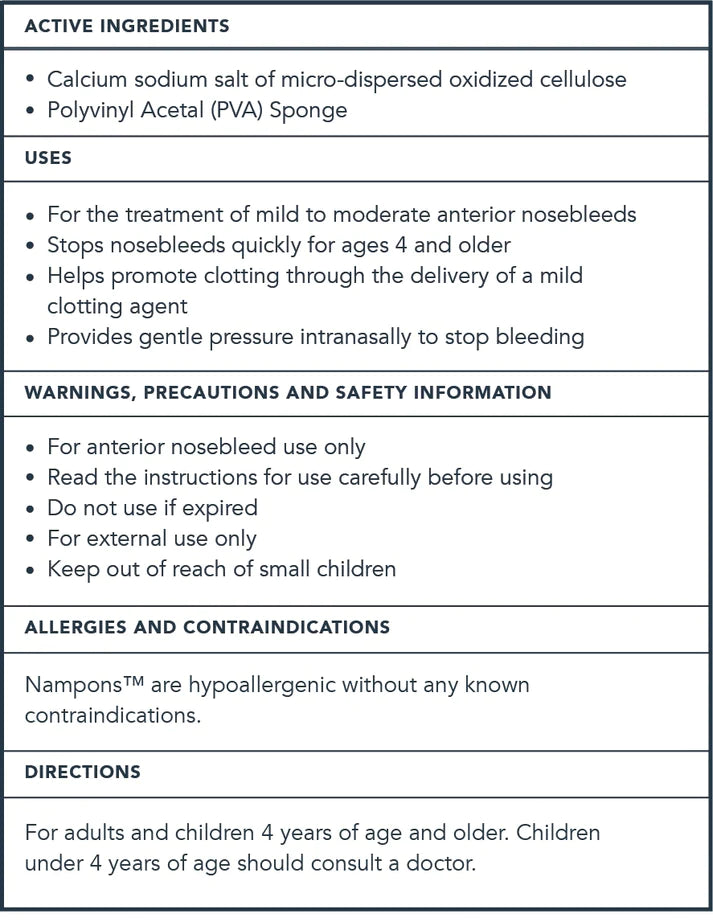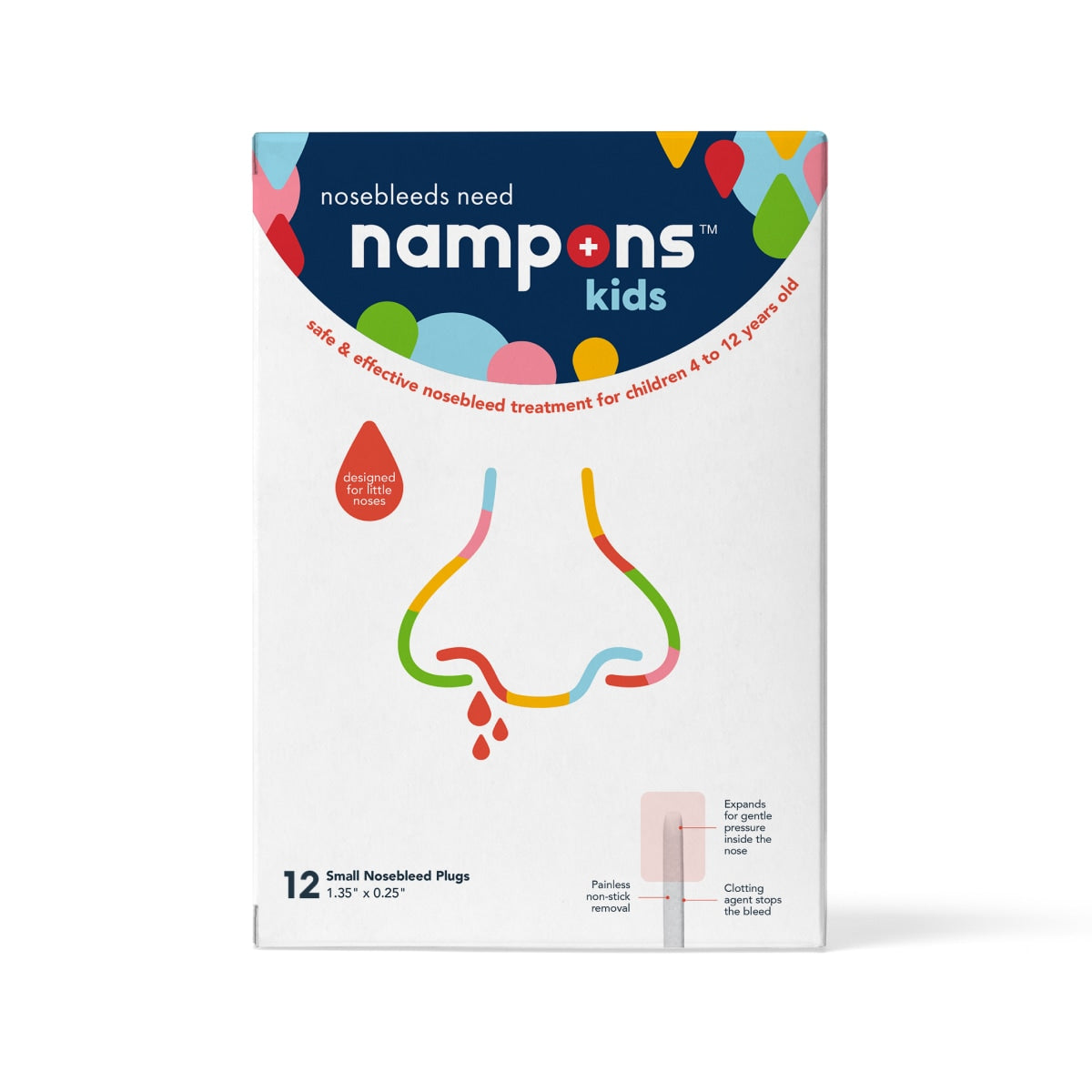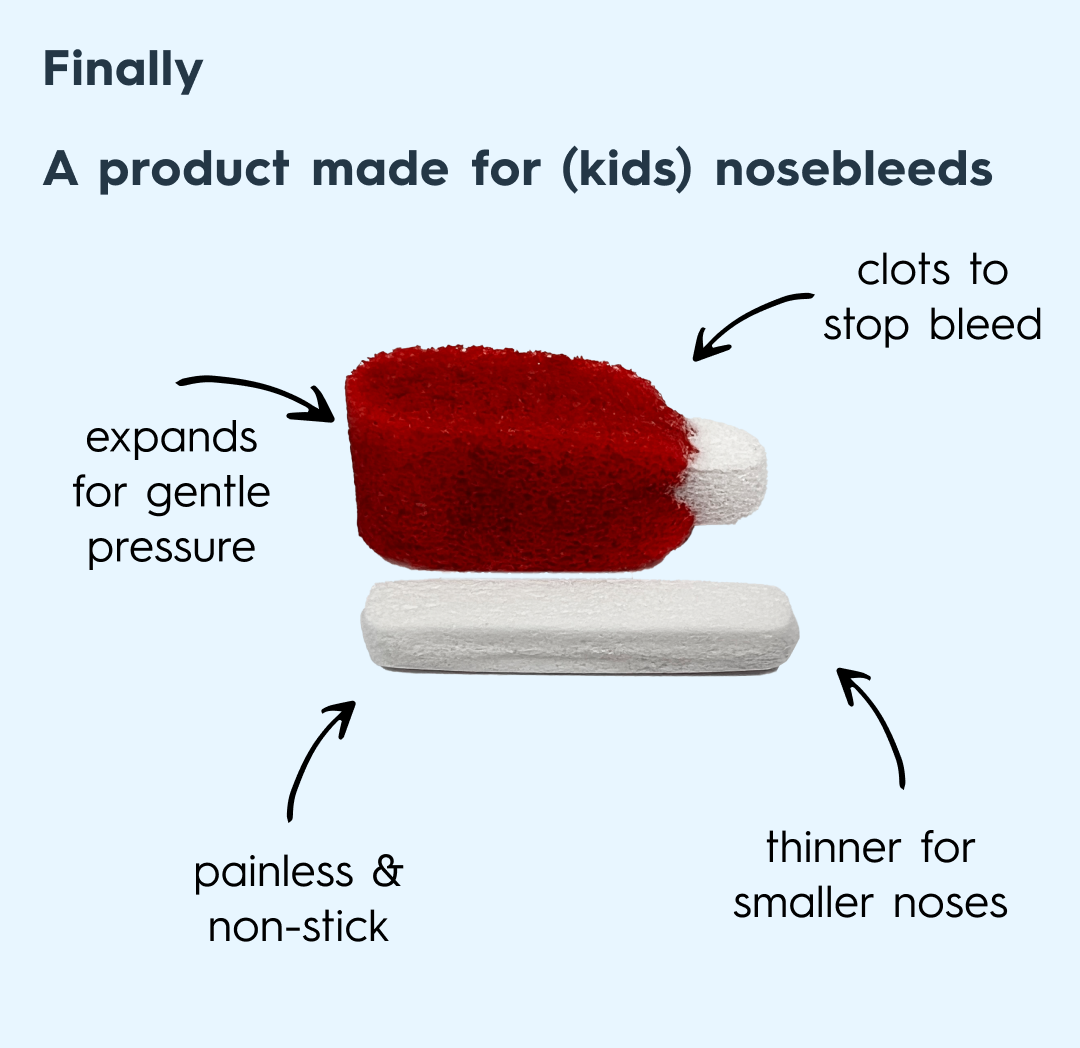 Designed for kids. Doctor approved
Nampons™ are designed for kids and approved by doctors to stop nosebleeds fast. They are small, comfortable, non-stick and hypoallergenic, so the the clotting agent can stop nosebleeds fast - letting kids go back to being kids!
Less Mess. Less Tears
If you've ever seen a nosebleed, you know how messy (and scary) they can become. A single Nampons™ Kids can absorb the same amount of blood as over 12 tissues - all while quickly stopping the bleeding.
Plus they're bloody (no pun intended) comfortable to use, and can be painlessly removed when the bleeding stops without worrying about it starting all over again!
My kid never had a nosebleed
As parents, we understand the value of being prepared for anything. We have BAND-AIDS™ in case they get a cut, burn cream in case they get a burn and stuff for poison ivy, well, just in case. We don't want them to get a cut, a burn or play with those leaves, but we have them just in case.
Nosebleeds can happen anytime, anywhere. Statistically, there is a 90% chance your child will get a nosebleed - most likely when you least expect it. Nampons™ last for three years, so put them in your medicine cabinet, first aid kit or car, just in case.
Nampons for kids are great - just like the ones for adults!
Nampons for kids are great - just like the ones for adults! I would recommend them to anyone looking to stop a bad nosebleed. Due to a genetic, hereditary blood vessel disorder, HHT, spontaneous nosebleeds, sometime minor, other times severe, are something we have to live it - amongst other possible complications. Nampons has been able to provide an item that most often will stop a nosebleed within minutes - which is pretty amazing, allowing us to return to normal activity. Thank you!
Perfect size
Love the size for smaller people
Game changer
My son has a bleeding disorder and gets frequent bloody noses, usually at the most inopportune time. Nampons have been incredibly helpful to help manage his bloody noses, regardless of where we are. We have these in every car, purse, backpack, and gym bag. Super easy to use (he can open the package and use it himself) and shortens the time of his bleeding. Big fans over here.
Works well!
This product was exactly what I've wanted for my 7 year old who is prone to nosebleeds. The child size is perfect for his little nose! They are super absorbent and weren't uncomfortable for him at all. They are so small and portable, perfect for backpacks and even pockets during winter dry air season.Love these!
Great!
Making an amazing product even better, now for kids!
A lifesaver!
My daughter has been getting bloody noses multiple times a week. We used Nampons for the first time today and they totally work! We didn't have to use a million tissues. Just stick the Nampon in and wait about 10 minutes. We will definitely be buying more. Thank you!
My daughter loves these...
I am so thankful to have come across Nampons. My youngest has a lot of nosebleeds and these have made a stressful situation so much easier to deal with. It's so much easier than pinching your nose. I've also noticed a significant decrease in re-bleeds since we started using them.
Nose plug
I think these things are going to change some peoples lives
Perfect for school
I had the opportunity to try both the shorter and very slightly longer Children's Nampons.
I can't say enough good things about this new child-friendly product.
I used to cut the original/adult size Nampons in half (length-wise) and try to reseal as much as tightly as possible to send to school.
With this new size option, the Nampons can stay sealed (and sterile) as they wait patiently in the nurses "meds from home" drawer.
As for choosing the right size, since there's a miniscule difference in the two length sizes that I tried, it's really a matter of preference. But if your little one has an average size nostril and are under 10 years old, I'd say you could safely go with the shorter Nampon. If your kiddo is over 10 years old, go with the slightly longer child size.
These are a must have for anyone who sends Nampons to keep at school.